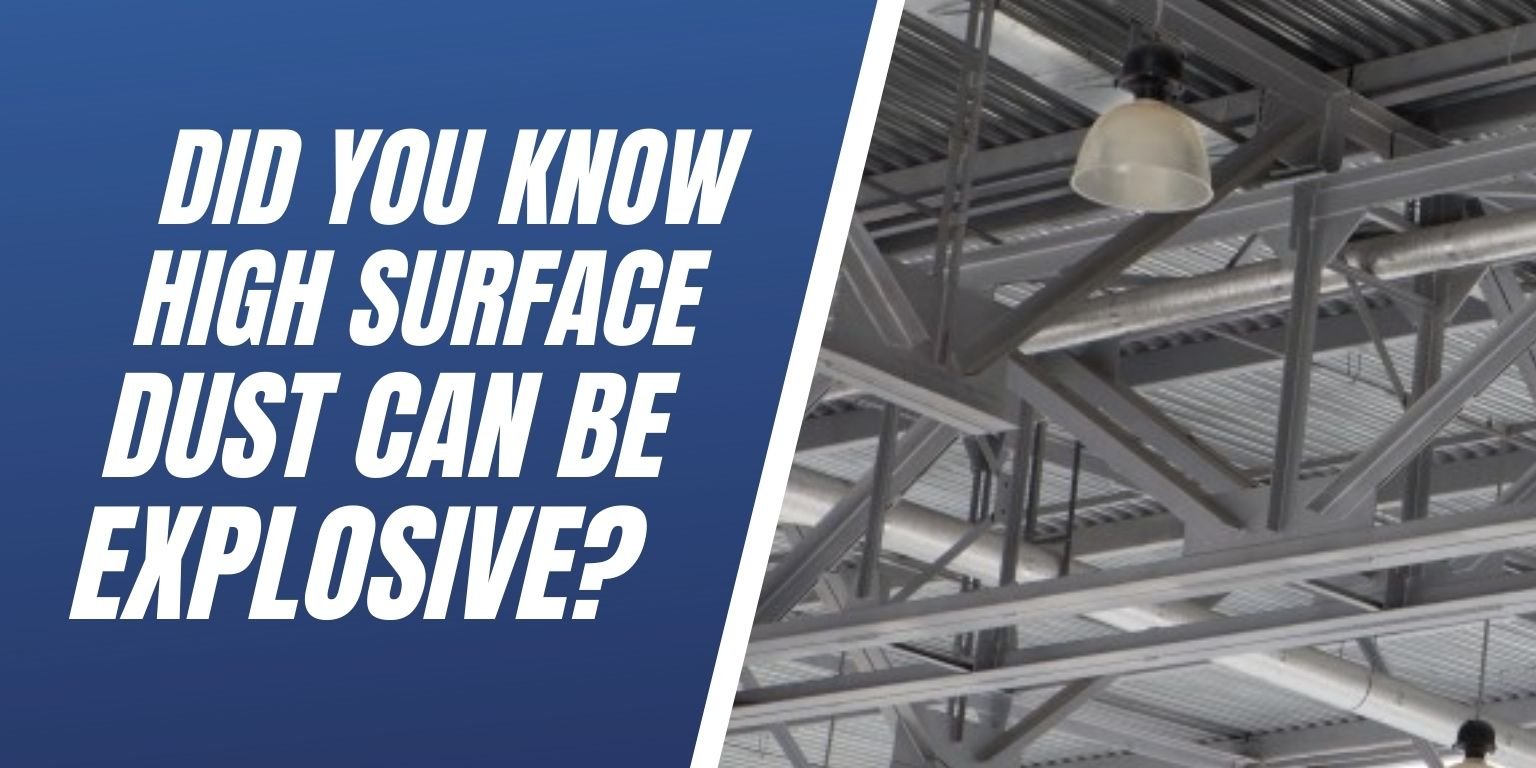 As an industrial facility, there is a lot of dust being produced. Over time, that dust accumulates and needs to be regularly and properly cleaned. Unfortunately, many facility managers only think about cleaning areas that are visible.
They don't realize that probable explosive dust, dirt and other debris are above their heads! High surface dust is one of the biggest dust explosion hazards and its removal should be a regular part of an industrial facility's combustible dust cleaning routine.
High Surface Dust
Through the course of everyday production, dust from manufacturing processes gets blown around and lands on high surfaces. Since these areas are out of reach and typically out of mind, they are not regularly cleaned. This high-surface dust continues to increase while the rest of the building appears clean. Seems pretty harmless, right?
Unfortunately, this dust can be made of combustible dust which can act like a bomb. In fact, one requirement for a combustible dust explosion is for a contained dust cloud to be created, and the settled dust in high up areas creates the potential for this to occur.
How a Dust Explosion Occurs
Usually there is a small fire or explosion that happens with the ground level dust, and the shock-waves or the attempt to put it out disrupts the dust on high surfaces. This causes the dust to fall down creating a dust cloud over the whole building.
This cloud reaches the initial ignition source, causing it to explode. These secondary dust cloud explosions have enough power to lift entire roofs from buildings, buckle concrete floors, and demolish entire factories.
Hughes High Surface Cleaning Services
Rafter and ceiling cleaning services will remove dust, dirt, grease, and other materials commonly found on the high surfaces of manufacturing and production facilities. Cleaning these surfaces on a regular basis can improve health and safety of your work environment, eliminate an explosion hazard and avoid costly OSHA fines. Areas that should not go untouched when cleaning high surfaces include:
Ceiling
Ceiling Truss
Rafters
Conduit
Lighting
Exterior of ductwork
Exhaust hood ventilation
Beams
Storage racks/shelving
Fire suppression systems
Ceiling Deck
Piping
By adding high surface cleaning to your list of areas to clean regularly, you will prevent the risk of a combustible dust explosion. Getting rid of high surface dust will also help eliminate the risk of dust and debris entering ventilation and clogging-up the HVAC system. Clean rafters and high surfaces also means cleaner air for you and your employees.
For a cleaner, healthier facility, look up! Are your high surfaces and rafters dust-free? If not, now is the time to contact an industrial cleaning professional who is experienced and certified in dust and combustible dust remediation.
Hughes Environmental technicians are OSHA-trained and are experienced in cleaning high surfaces. Hughes Environmental uses equipment approved for combustible dust cleaning, such as intrinsically safe vacuums and grounded hoses.
Contact Us Here or call 888.845.3952.