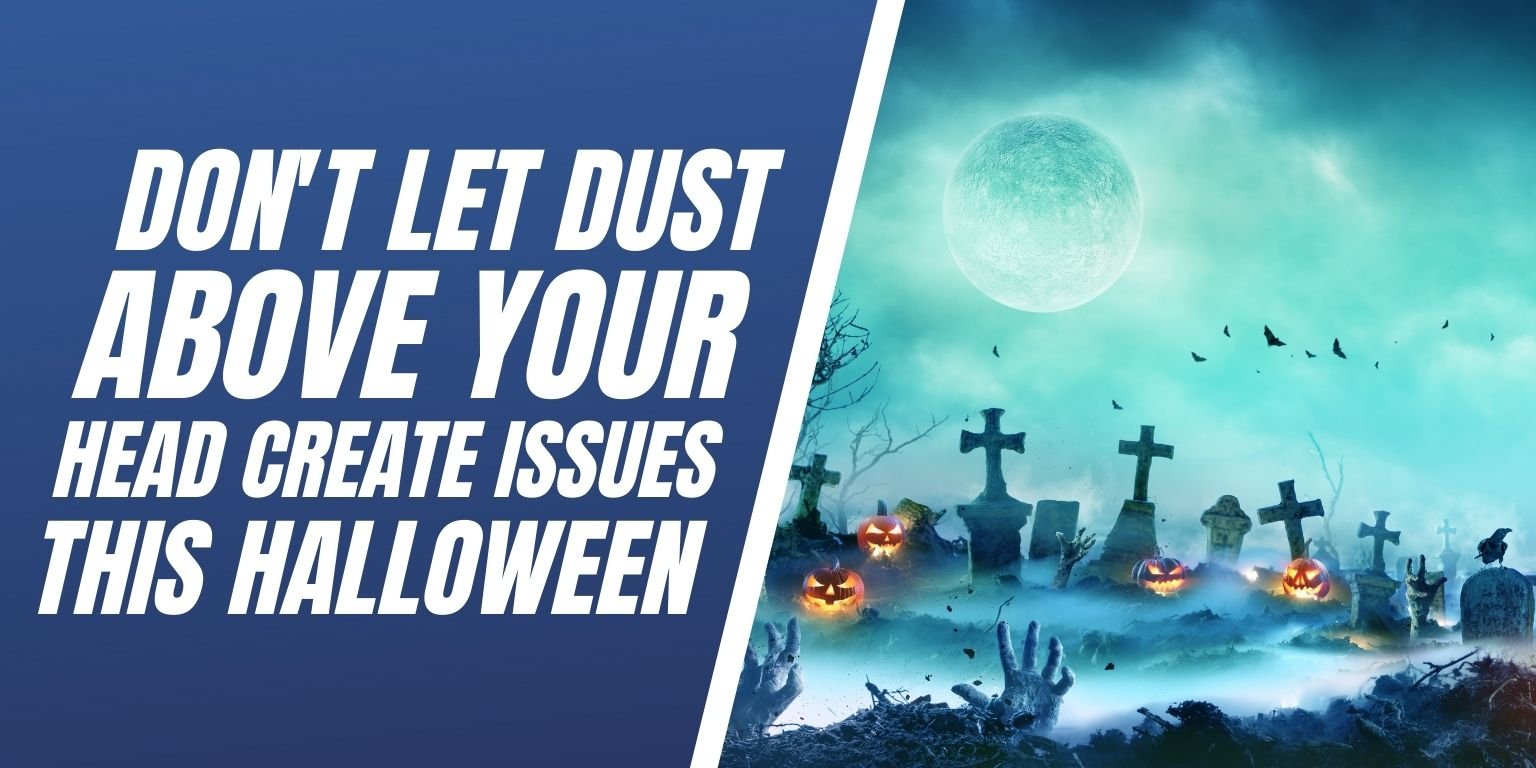 Halloween is Monday, and there are plenty of scares waiting for us around every corner. However, as a plant manager something that might be truly terrifying is being fined for unsafe levels of dust that was allowed to accumulate.
High Surface Cleaning Can Help Improve These Issues
The ceiling and rafters of a facility can collect high levels of dirt and dust from the daily manufacturing process. Since these areas are out of reach and out of sight they don't get regularly cleaned, which will increase the risks associated with the lack of high ceiling cleaning.
Removes Accumulated Dust on High Surfaces
High surface dusting removes dust, dirt, grease, and other toxic materials commonly found on the rafters and ceilings of manufacturing and production facilities. The vibrations in facilities like these can shake built up dust loose, causing it to contaminate the production below.
Not to mention, OSHA & the NFPA can give violations and fines for having unsafe levels of dust on ceilings and rafters.
Improves Indoor Air Quality
Commercial duct cleaning can help improve indoor air quality by removing dirt, dust, other airborne contaminants and allergens out of the air from your facility's HVAC system.
Not only does duct cleaning also improves your facility's air quality, but allows your facility's HVAC system to run more efficiently.
Improves Employee Health
Speaking of dirty ducts, they are the perfect breeding ground for mites, mold, bacteria, viruses, and other poisons that could contribute to Sick Building Syndrome. Mites and mold can cause allergic reactions in some people; bacteria and viruses will spread throughout the building making your employees sick.
Dust can also be a slipping hazard when it collects on walking surfaces; the small particles reduce the traction that people are used to when walking in a building. Slips are one of the main causes of workplace injury, and within those injuries dust is one of the main causes of those slips.
Prevents Combustible Dust Explosion
Properly removing combustible dust with the right equipment and gear helps to lessen the risk of a dust explosion during the cleaning process. Industrial facilities, produce a lot of dust, and over time that dust collects on machinery, floors, and on high surfaces. These types of dusts can pose as fire hazard when they collect in large enough areas. Many secondary explosions in factories have been caused by an explosive dust cloud forming when dust is knocked down from these high surfaces.
OSHA has been paying attention to the dangers that dust in the workplace can create and has been cracking down on companies that aren't following housekeeping rules. The Combustible Dust National Emphasis Program was created by OSHA to deal with this issue, and has already cited almost five thousand businesses for dust accumulations, with fines ranging from thousands of dollars to hundreds of thousands.
Hughes Environmental Can Help
Hughes Environmental technicians have all been through OSHA 10- or 30-hour training, as well as Fall Protection training to ensure that proper safety measures are used when cleaning the high surfaces in your building.
Our technicians will take extra precautions to ensure that your machinery and production line are protected, and use a vacuum powered by compressed air that does not lose pressure during use and is significantly more powerful than a standard vacuum.
Hughes technicians are well-trained on NFPA standards and requirements for safely cleaning combustible dust, and use explosion proof vacuums designed specifically for combustible dust cleaning.
Don't let accumulated dust on rafter and ceilings create issues in your facility. Contact Us Here or call us at 888-845-3952 to find out how Hughes Environmental can help get rid of dust and dirt on your facility's high surfaces.
Don't forget to have a Happy Halloween!!