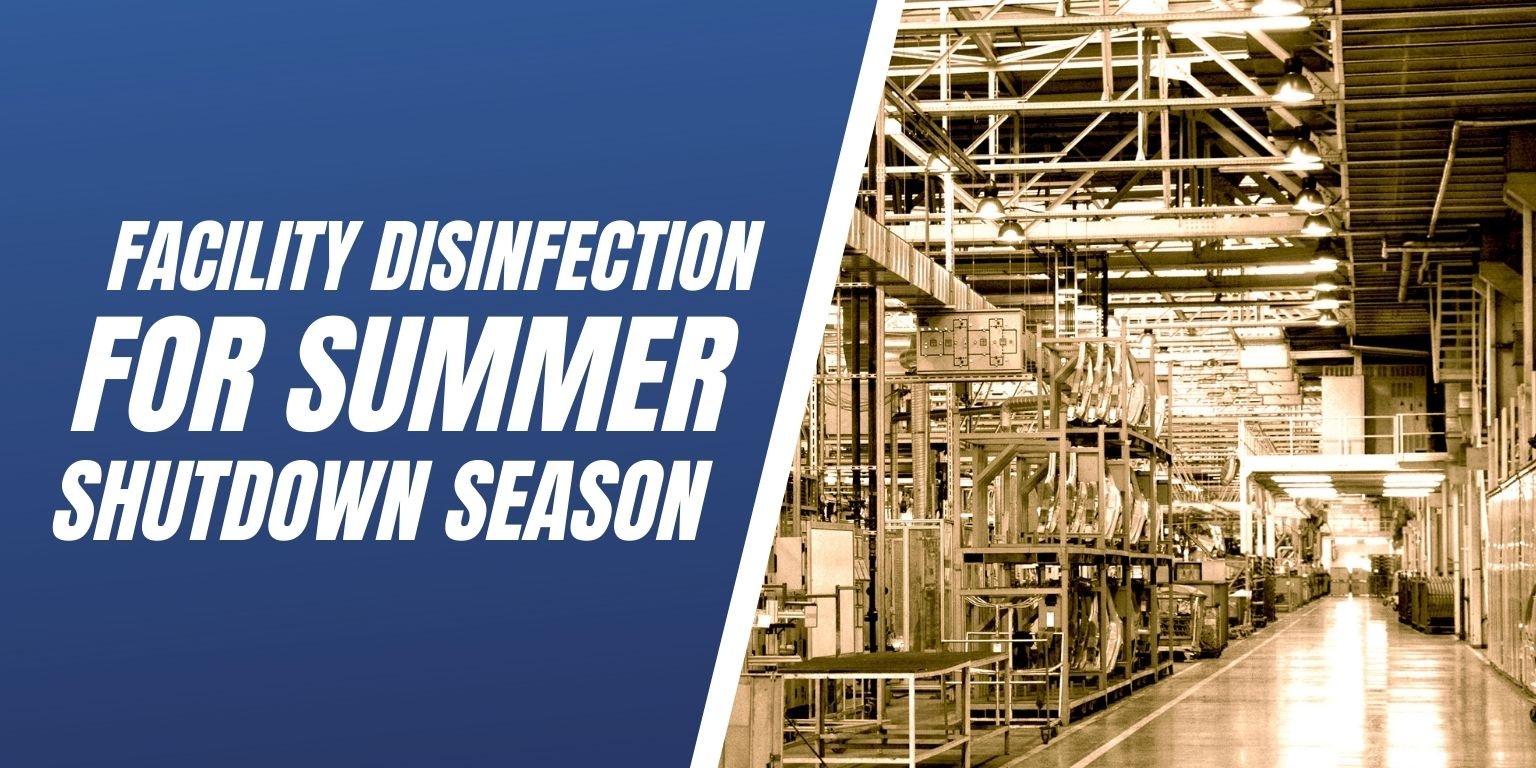 Industrial disinfection cleaning services are more important than ever to the health and safety of your employees. With summer shutdown season right around the corner, now is the perfect time to plan for your facility's cleaning and disinfection services. Many industrial facilities will shutdown during these summer months to allow maintenance and cleaning to be performed when machinery is stopped and there are no employees to work around. However, due to limited budgets and overdue maintenance required, many facilities are looking to, if not already, using electronic air cleaners including ionization, oxidation and its many forms.
As an environmental safety company, we recommend for industrial facilities to only use the best when it comes to the health and safety of you and your employees. There are many different methods to disinfecting your facility. However, HVAC Duct Cleaning, Air Purification Systems, Electrostatic Spray Disinfection, UVC Light Disinfection and BioProtectUs™ Systems remain the only safe and scientifically proven technologies for complete facility disinfection.
HVAC System Cleaning
Clean ductwork is the first step in removing airborne contaminants and allergens out of the air you breathe. Regular duct cleaning also improves airflow, allowing your facility's HVAC system to run more efficiently. According to the EPA, a buildup of just 0.42″ of dirt on a heating or cooling coil can result in a decrease of efficiency of 21%. Dirty ductwork can load filters quickly and lead to more stress on the air handler and potentially higher energy costs. Blockages in reheat coils, mixing boxes, VAV boxes and other terminal boxes found in commercial HVAC systems can also restrict airflow. Components of HVAC duct cleaning include:
Supply & Return Ductwork
Dedicated Exhaust Ductwork and Fans
Air Handler Units
Internally Lined Ductwork: Cleaning and Encapsulating (Sealing)
Mold Remediation from all types of Ductwork
VAV's Reheat Coils, Mixing Boxes
Filter Replacements
Air Purification Systems
Indoor air quality concerns many people these days. It is essential to have a way to purify the air from harmful pollutants. The best way to do this is through the use of air purification systems, air filters or air scrubbing systems.
Air purifiers capture and kill contaminants within the purifier itself. Air purifiers use one or more filtration and air treatment methods to remove pollutants from the air. Air purifiers that use HEPA filtration can filter air particles down to 0.3 microns in size with a 99.97%.
Air scrubbers utilizes a sear and retrieve method to eliminate contaminants in the indoor air. Air scrubbers are also available with HEPA filtration, allowing you to filter air particles down to 0.3 microns in size at 99.97% efficiency rating. In addition, they can work alongside a variety of three-stage HEPA negative air machines, which feature replaceable forest, second, and third filters. Air scrubbers are excellent for construction and healthcare organizations as they are highly effective at removing both airborne and settled dust and bacteria.
Air Filters filter out particulate matter before it has time to spread into the air. .
Electrostatic Spray Disinfection
The Electrostatic Sprayer is a cordless backpack that offers a full room cleaning by electrically charging the chemical solution so that when released, the solution quickly bonds to surfaces instead of falling straight to the floor. The droplets pass an electrode inside the nozzle creating a magnetically charged spray that seeks out and wraps around all touch points and grounded room surfaces. Based on CDC Guidelines, areas that need to be given specific attention include:
Workstations
Counter tops
Doorknobs/Handles
Elevator/Buttons
Security Card Readers
Faucets
Escalator handrails
UVC Light Disinfection
UVC Light Disinfection is a method that uses short-wavelength ultraviolet light to kill or inactivate microorganisms by destroying nucleic acids and disrupting their DNA, leaving them unable to perform vital cellular functions. UVC refers to ultraviolet light with wavelengths between 200 – 280 nanometers (nm). Light in the UVC wavelength can be used for disinfecting hospitals, sterilizing surfaces, destroying harmful micro-organisms in the air.
By treating the air circulating in your heating and cooling system, UV germicidal lamps can kill mold and destroy airborne viruses and bacteria that, ultimately, lead to colds, flus and other illnesses. The best practices for industrial facilities include:
UVC Lighting at the Coil
In-duct UVGI Lighting
Upper Air UVC
UVC Light Disinfection Wand
Mobile Remote UVC Disinfection System
Ceiling/Wall Mountable Germicidal UVC Systems
BIOPRTECTUs™ System
The BIOPROTECTUs™ System uses patented, registered technologies: SmartTouch®, a List N disinfectant, to disinfect surfaces against viruses, bacteria, and germs, and BIOPROTECT™ RTU antimicrobial surface protectant, to keep surfaces free of odor- and stain-causing bacteria, fungi (mold and mildew), and algae between cleanings, for up to 90 days (3 months).
Hughes Environmental, a national leader in environmental and facility cleaning/disinfection solutions, has several solutions that can help safeguard your facility as bacteria and viruses begins to spread and take over.
Contact Us Here or call 888-845-3952 to find out how Hughes can help you keep your work environment clean and safe!