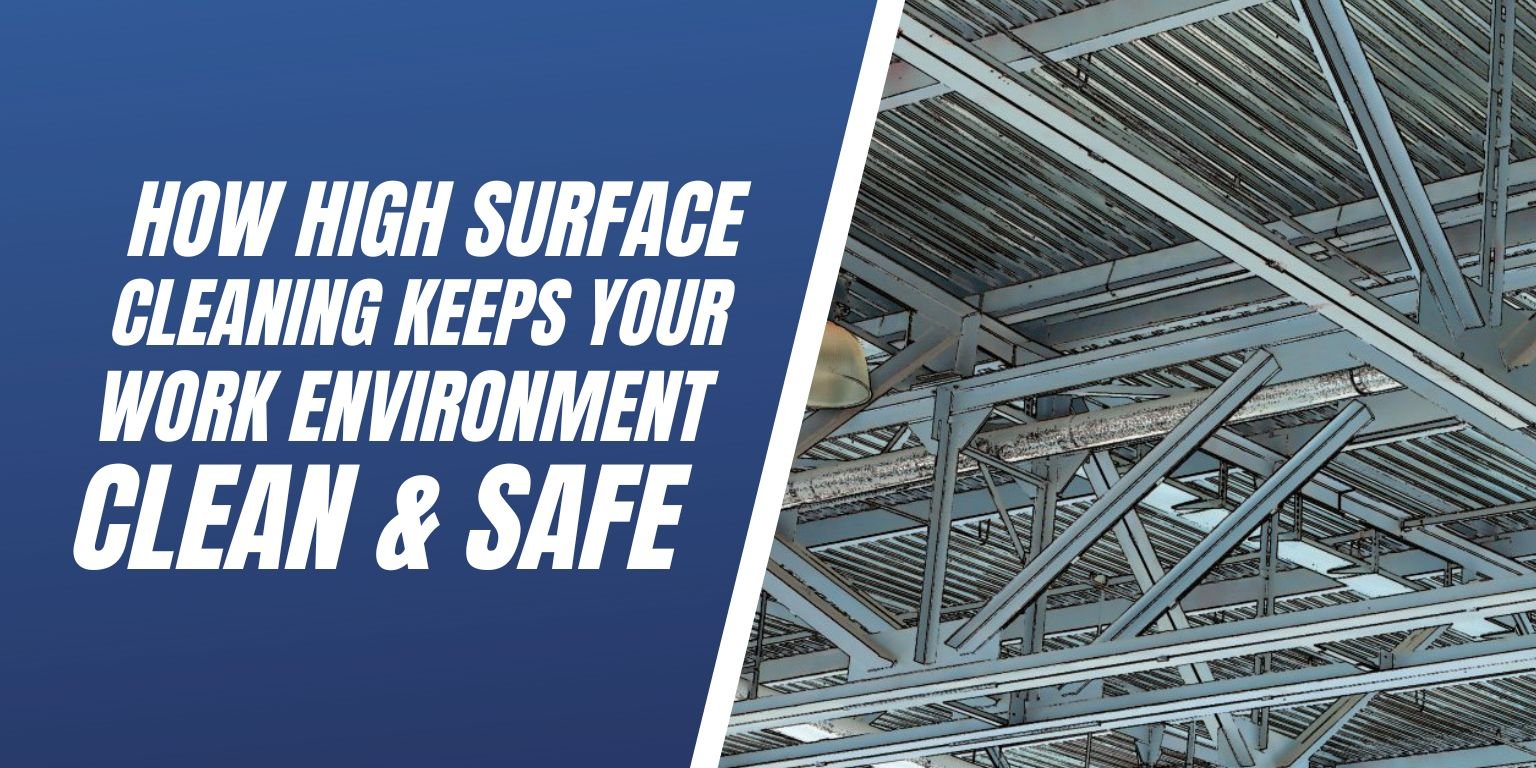 When planning for your company's industrial cleaning routine it is easy to only look at eye level and consider it clean. Your cleaning process might include sweeping the floors and blowing dust off any machinery, making it appear clean at first glance. However, one you might be overlooking is high surface cleaning.
The ceiling is full of rafters, pipes and ductwork. Dirt and dust travels through the air and lands on these high surfaces, where they accumulate quickly. Since these areas are out of reach and out of sight they don't get regularly cleaned or disturbed, and the industrial dust on the ceiling increases while the rest of your building appears clean. And while it may seem that as long as that ceiling dust stays up there it's not hurting anything, it is actually causing numerous problems within the building. So why should you include high surfaces to your industrial cleaning plan?
Prevents Dirty Machinery and Equipment
Dust from the manufacturing process gets blown around landing on high surfaces. Vibrations and air movement can cause built up dust to fall and contaminate production areas below. This can lead to higher than expected numbers of quality control issues, or even damage machinery.
Rafter and ceiling cleaning removes dust, dirt, grease, and other materials commonly found on the high surfaces of manufacturing and production facilities. Industrial high surface cleaning should include:
Ceiling
Ceiling truss
Rafters
Conduit
Lighting
Exterior of ductwork
Exhaust hood ventilation
Beams
Storage racks/shelving
Fire suppression systems
Ceiling deck
Piping
Improves HVAC System Efficiency
Dust is dispersed throughout the facility and over time, is brought into the ventilation ductwork as air flows through the building. The dust will settle in sections of the duct where there is a bend or anything that might prevent the dust from continuing to flow through, clogging the HVAC and making it work harder to move air throughout the building.
Routine commercial duct cleaning can help your business save money on energy by removing dirt, dust and debris from your HVAC system. This includes cleaning the grilles and registers, which helps to keep particles out of the ambient air. In fact, according to the Division of Occupational Health and Safety (DOHS) recommends the following for prevention of air duct contamination.
Perform routine preventive maintenance on HVAC systems, by complying with manufacturer schedules for changing HVAC filters, cleaning coils, and other components.
Ensure that air intakes are located away from contaminant sources.
Routine inspections of ductwork. The National Air Duct Cleaning Association (NADCA)'s standard, "Assessment, Cleaning and Restoration of HVAC Systems-ACR 2013," recommends that HVAC systems be visually inspected for cleanliness at regular intervals, depending on building use. For healthcare facilities, the standard recommends annual inspections of air handling units and supply/return ductwork.
Improves Indoor Air Quality and Employee Health
Not only do dirty ductwork cause the HVAC system to run less efficiently, but they are the perfect breeding ground for mites, mold, bacteria, viruses, and other poisons that could contribute to Sick Building Syndrome. Mites and mold can cause allergic reactions in some people; bacteria and viruses will spread throughout the building making your employees sick.
Prevents Risks of Combustible Dust Explosions
High surface dust can be made of combustible dust which can act like a bomb. Usually, a small fire or explosion happens with ground level dust, but the shockwaves from this disrupt the ceiling dust, which falls down and creates a dust cloud over the whole building. This second, much larger, cloud of dust then ignites and explodes.
Hughes Environmental
Working with Hughes, you can expect technicians that are trained, certified and up-to-date on common best practices. We have an OSHA trainer on staff, and our technicians have been through OSHA 10- or 30-hour training. We also have Council-certified Indoor Environmentalists (CIE) and Council-certified Microbial Remediators (CMR) on staff.

Hughes Environmental is a member of National Fire Protection Association (NFPA) and The National Air Duct Cleaners Association (NADCA) with multiple NADCA Certified "Air Systems Cleaning Specialists" on staff. We are also a member of the Indoor Air Quality Association (IAQA), and the American Council for Accredited Certification (ACAC) with multiple ACAC "Council Certified Microbial Remediators" and ACAC "Council Certified Indoor Environmentalists" on staff. In addition, Hughes is an ISNetworld(R) member contractor, as well as a member of the International Kitchen Exhaust Cleaning Association (IKECA). These memberships and certifications help us keep current with standard practices and any new regulations that are important to consider when performing cleaning projects, and help us demonstrate our ability and commitment to work safely.
Contact Us Here or call 888.845.3952 to learn more about how we can help