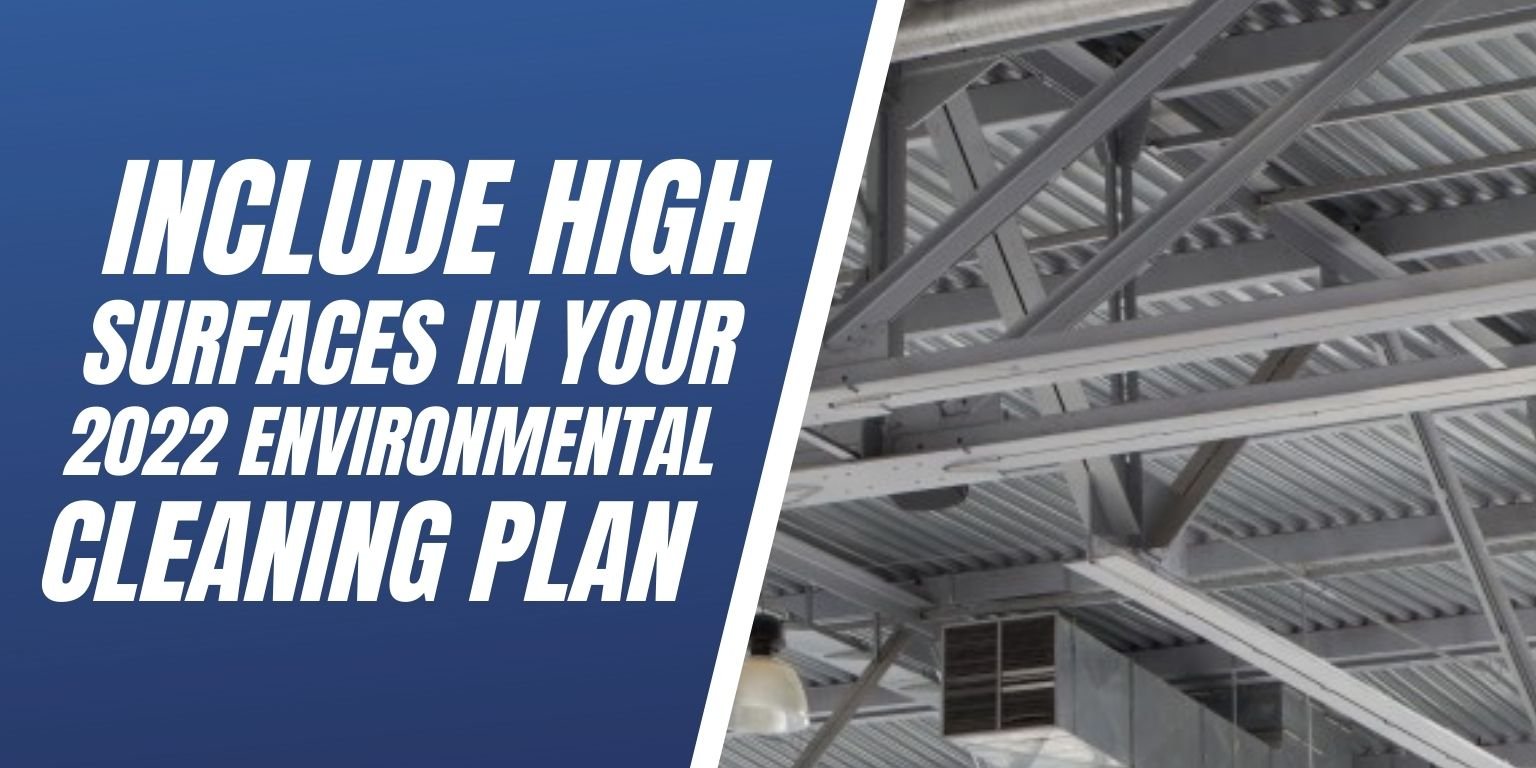 As we continue to head towards the end of the year, now is the time to plan for your facility's 2022 industrial cleaning plan. For the facility managers, a clean and safe work environment should be a high priority on your to do list. If OSHA visited your facility tomorrow, would your building be incompliance? Do you have a routine industrial cleaning plan? If not, you not only run the risk of receiving a hefty fine, but most importantly the employees of your building are in danger.
When planning for your facility's industrial cleaning routine it is easy to only look at eye level and consider it clean. Your cleaning process might include sweeping the floors and blowing dust off any machinery, making it appear clean at first glance. However, one area that is often overlooked when it comes to industrial cleaning, and it has the potential to cause severe problems later on are high surfaces.
High Surface Cleaning Services That Should Be Include in Your 2022 Environmental Cleaning
The ceiling is full of rafters, pipes and ductwork. Dirt and dust travels through the air and lands on these high surfaces, where they accumulate quickly. Since these areas are out of reach and out of sight they don't get regularly cleaned or disturbed, and the industrial dust on the ceiling increases while the rest of your building appears clean. And while it may seem that as long as that ceiling dust stays up there it's not hurting anything, it is actually causing numerous problems within the building. So, what high surface cleaning should you include in your industrial cleaning plan?
Rafter & Ceiling Cleaning
Vibrations in the facility can shake built up loose dust, dirt, grease, and other materials commonly found on the high surfaces, which could contaminate the production below. Chunks of this debris can enter the ventilation and clog up the HVAC system. This creates poor indoor air quality, which according to the EPA is a leading environmental threat and cause of airborne sickness. Not to mention, some dusts can become a fire hazard when built up on high surface areas. Numerous explosions have occurred when built up dust created an explosive dust cloud. Industrial rafter & ceiling cleaning services should include:
Ceiling
Ceiling truss
Rafters
Conduit
Lighting
Exterior of ductwork
Exhaust hood ventilation
Beams
Storage racks/shelving
Fire suppression systems
Ceiling deck
Piping
HVAC Systems Cleaning
Commercial duct cleaning can help your business save money on energy by allowing your facility's ventilation system to run more efficiently, and help reduce the risk of fires in the ductwork — especially in manufacturing facilities where combustible dust is present. It also helps improve indoor air quality by removing dirt, dust and debris from your HVAC system. This includes cleaning the grilles and registers, which helps to keep particles out of the ambient air. In fact, according to the Division of Occupational Health and Safety (DOHS) recommends the following for prevention of air duct contamination.
Perform routine preventive maintenance on HVAC systems, by complying with manufacturer schedules for changing HVAC filters, cleaning coils, and other components.
Ensure that air intakes are located away from contaminant sources.
Routine inspections of ductwork. The National Air Duct Cleaning Association (NADCA)'s standard, "Assessment, Cleaning and Restoration of HVAC Systems-ACR 2013," recommends that HVAC systems be visually inspected for cleanliness at regular intervals, depending on building use. For healthcare facilities, the standard recommends annual inspections of air handling units and supply/return ductwork.
Now is the time to start planning for your facility's 2022 industrial cleaning plan. So, don't forget to include high surfaces, such as rafter and ceiling cleaning as well as your ventilation system.
For more information about high surface cleaning services, Contact Us Here, or call us at 888-845-3952 to learn how we can help you a keep your facility's ductwork clean and healthy.