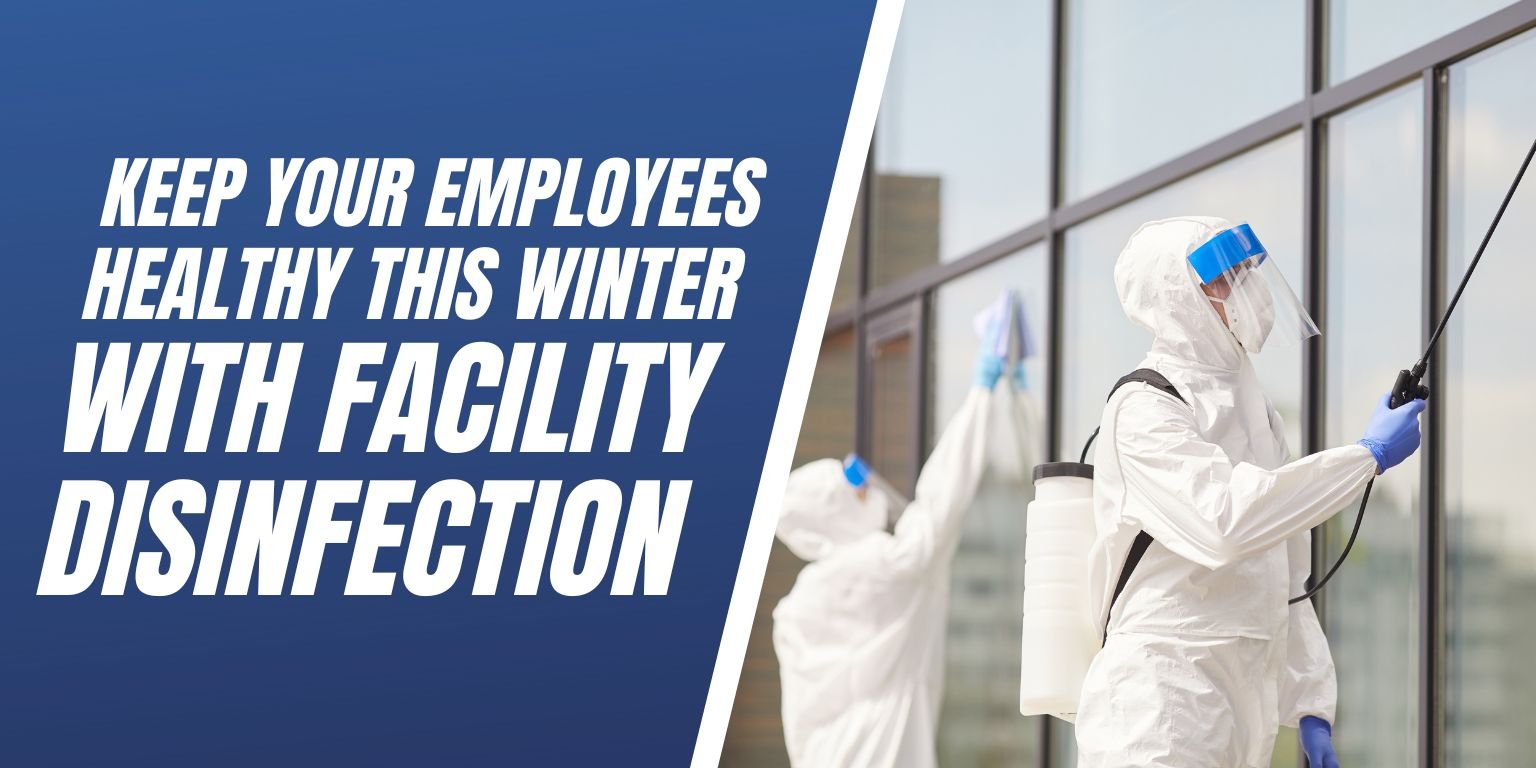 It's cold and flu season, and with the weather getting colder, there is a high chance of getting sick if we haven't already. People spend a lot more time indoors during cold months, allowing viruses to pass more easily from one person to another. Not to mention, the cold, dry air may weaken resistance. However, routine facility cleaning and disinfection services is a great way to help guarantee your building is clean, healthy and safe.
Whether you are in the industrial industry, an educational campus, a healthcare or commercial facility; environmental cleaning and disinfection services are more important than ever to the health and safety of you and your building occupants.
Facility Disinfection Services
As an environmental safety company, we recommend for industrial facilities to only use the best when it comes to the health and safety of you and your employees. There are many different solutions including Hand Wiping, Air Purification Systems, Electrostatic Spray Disinfection, UVC Light Disinfection and BioProtectUs™ Systems.
Hand Wiping
Sometimes it's some oily residue that needs to be cleaned with a commercial grade degreaser, but sometimes it's a surface that may need to be scraped to removed dirt and debris that has adhered to the surface; there are certain circumstances that special detailed cleaning is necessary. Deep cleaning involves hand wiping or scraping unwanted dirt, grime, or residue.
Step 1: Clean
Step 2: Disinfect
Step 3: Hand Wipe
Hughes Environmental's technicians are experienced in infection control and OSHA trained to meet your facility's safety requirements. We've performed hundreds of cleaning projects in all kinds of facilities.
Air Purification Systems
Air Filters filter out particulate matter before it has time to spread into the air. But what's more important is what they can't filter out - viruses and bacteria.
Air Purifiers capture and kill contaminants within the purifier itself. Air purifiers use one or more filtration and air treatment methods to remove pollutants from the air.
Air Scrubbers utilizes a sear and retrieve method to eliminate contaminants in the indoor air. Air scrubbers are excellent for construction and healthcare organizations as they are highly effective at removing both airborne and settled dust and bacteria.
Electrostatic Spray Disinfection
The Electrostatic Sprayer is a cordless backpack that offers a full room cleaning by electrically charging the chemical solution so that when released, the solution quickly bonds to surfaces instead of falling straight to the floor. The droplets pass an electrode inside the nozzle creating a magnetically charged spray that seeks out and wraps around all touch points and grounded room surfaces. Based on CDC Guidelines, areas that need to be given specific attention include:
Workstations
Counter tops
Doorknobs/Handles
Elevator/Buttons
Security Card Readers
Faucets
Escalator handrails
UVC Light Disinfection
UVC Lighting is a disinfection method that uses short-wavelength ultraviolet light to kill or inactivate microorganisms by destroying nucleic acids and disrupting their DNA, leaving them unable to perform vital cellular functions. UVC refers to ultraviolet light with wavelengths between 200 – 280 nanometers (nm). Light in the UVC wavelength can be used for disinfecting hospitals, sterilizing surfaces, destroying harmful micro-organisms in the air.
By treating the air circulating in your heating and cooling system, UV germicidal lamps can kill mold and destroy airborne viruses and bacteria that, ultimately, lead to colds, flus and other illnesses. The best practices for industrial facilities include:
UVC Lighting at the Coil
In-duct UVGI Lighting
Upper Air UVC
UVC Light Disinfection Wand
Mobile Remote UVC Disinfection System
Ceiling/Wall Mountable Germicidal UVC Systems
BIOPRTECTUs™ System
The BIOPROTECTUs™ System uses patented, registered technologies: SmartTouch®, a List N disinfectant, to disinfect surfaces against viruses, bacteria, and germs, and BIOPROTECT™ RTU antimicrobial surface protectant, to keep surfaces free of odor- and stain-causing bacteria, fungi (mold and mildew), and algae between cleanings, for up to 90 days.
Step 1: Start off by cleaning and removing dirt, grime, and oils using a standard cleaning agent.
Step 2: Disinfect areas using the EPA list N: Hospital Grade Disinfectant, like SmartTouch®.
Step 3: BIOPROTECT™ - Apply the antimicrobial surface coating. Once fully dried, you have finished the Hughes 3-Step Cleaning Service!
Hughes Environmental
Hughes Environmental, a national leader in environmental and facility cleaning/disinfection solutions, specializes in helping facilities become safer, cleaner, and code compliant work environments by providing quality environmental cleaning and facility disinfecting services. We service a wide variety of industries including, Industrial, Commercial, Education, Healthcare, Long-term Care, Hospitality and Government facilities.
After the Hughes 3-Step Cleaning Service is complete, we can offer your place of business a full media kit to show your employees & visitors/customers that you are fully committed to their health & well-being. This kit includes, a certificate, a digital seal for social media, and a Press Release Template should you desire to alert to the local media.
Our technicians are trained, certified and up-to-date on common best practices. We have an OSHA trainer on staff, and our technicians have been through OSHA 10- or 30-hour training. We also have Council-certified Indoor Environmentalists (CIE) and Council-certified Microbial Remediators (CMR) on staff.
Contact Us Here or call 888-845-3952