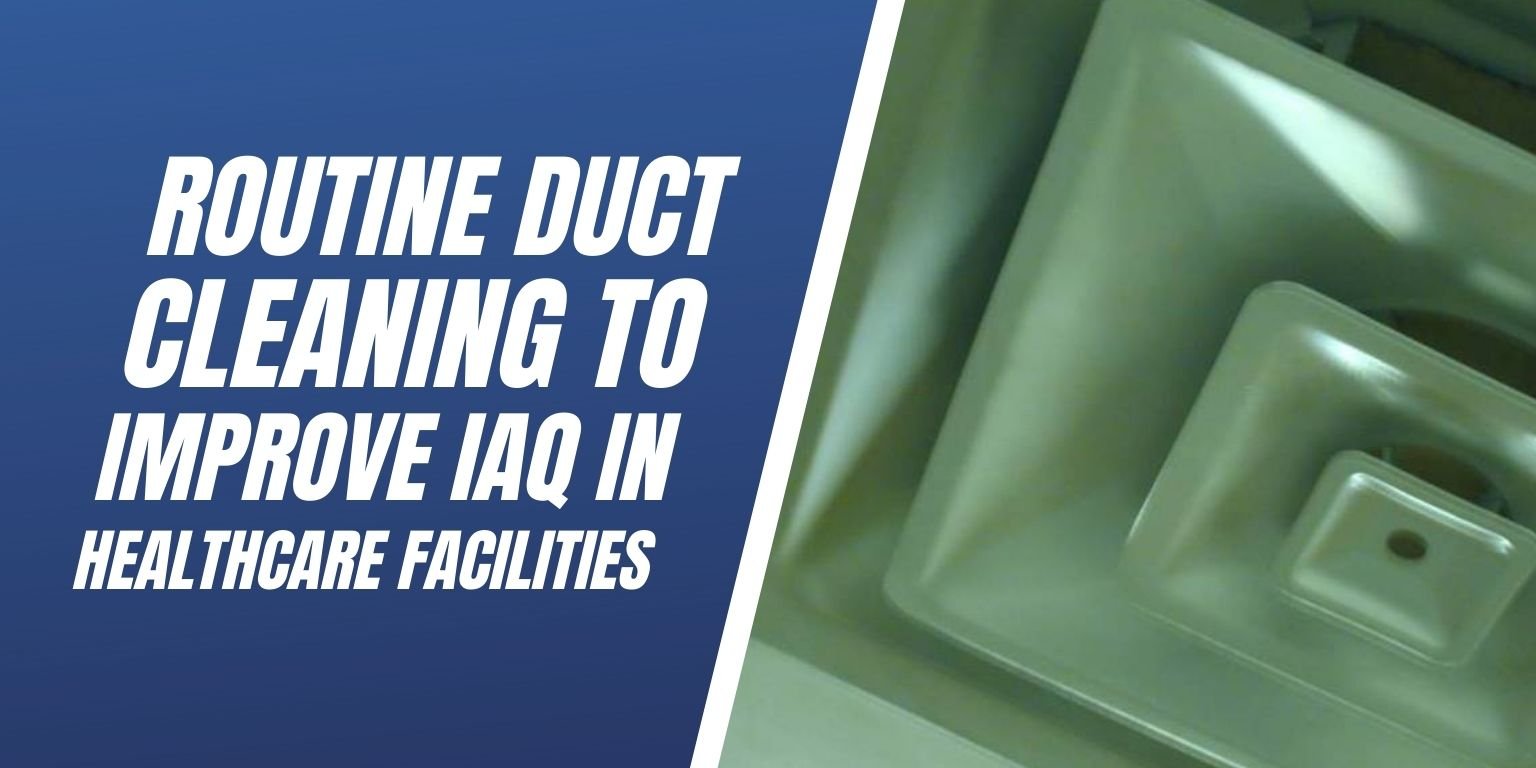 t's that time of year for a lot of rain and thunderstorms. Unfortunately, after a lot of rain it's easy for mold, fungus as wall as other bacteria to grow. Making sure your facility's ductwork is cleaned on a regular basis can help make the air you breathe fresh and clean. Since the ductwork is above the ceiling and typically out of sight, it's easy to not think about having it cleaned. Regardless of whether you work in a hospital, or long-term care facility, the only way to completely remove these pollutants is through routine duct cleaning.
Importance of Duct Cleaning in Hospitals
We turn to hospitals for so many stages in our lives- welcoming a new child into the world, curing our sicknesses and injuries, and grieving the loss of a life. According to the CDC, 35.1 million people visited a U.S. hospital for inpatient services, and an additional 125.7 million came for outpatient visits. With a United States population of 318 million, roughly half the population visited a hospital for care during the year.
This number doesn't take into account the visitors and loved ones who come to visit, as well as doctors, nurses, staff members, inspectors, and everyone else who comes and goes in a hospital every day. Hospitals are busy places, which makes it essential that they are kept clean and safe for everyone inside, particularly patients whose immune systems are lowered.
Due to this, hospitals are usually cleaned thoroughly to reduce the risk of infection or a disease spreading throughout the building. Despite this, the CDC estimates that over 1.7 million people become infected while they are staying in a hospital, and many of these infections come from a source that doesn't get regularly cleaned- the ventilation system.
Importance of Duct Cleaning in Senior Care Facilities
As a senior care facility, you have many vulnerable lives that you want to help protect and keep safe. Unfortunately, it is often assumed that being indoors is a safe and healthy place for people who have health issues, but this actually puts them at more risk. In fact, inside air is up to 10 times more polluted that outside air, and after construction or renovation it can be up to 1000 times dirtier than outside air. Although this statistic is dangerous for anyone, it is even more important to keep in mind for people who are forced to spend most of their time inside.
Residents who are exposed to these air contaminates would experience symptoms such as breathlessness, coughing, wheezing breath and even cases of chronic obstructive pulmonary disease. This is why it is more and more important for buildings to ensure their levels of indoor air pollution do not reach dangerous levels, especially places like nursing homes and assisted care living facilities would expose people with weaker immune systems or health issues.
The air quality in senior care facilities are critical and should be closely monitored. of Course routine duct cleaning is the best way to ensure a clean and safe environment for your residents.
Routine Duct Cleaning
Cleaning your facility's ductwork is the first step in removing airborne contaminants and allergens out of the air they breathe. Duct cleaning is an important part of keeping an environment safe and healthy for everyone that enters through your doors.
Components of Duct Cleaning Services Include:
Supply & Return Ductwork
Dedicated Exhaust Ductwork and Fans
Air Handler Units
Internally Lined Ductwork: Cleaning and Encapsulating (Sealing)
Mold Remediation from all types of Ductwork
VAV's Reheat Coils, Mixing Boxes
Filter Replacements
Another way to help eliminate bacteria and other viruses from growing and spreading through your ventilation system is the installation of UVC Light Disinfection. UVC Light is a method that uses short-wavelength ultraviolet light to kill or inactivate microorganisms by destroying nucleic acids and disrupting their DNA, leaving them unable to perform vital cellular functions. UVC refers to ultraviolet light with wavelengths between 200 – 280 nanometers (nm). Light in the UVC wavelength can be used for disinfecting healthcare facilities, sterilizing surfaces, destroying harmful micro-organisms in the air. UVC Light disinfection in an senior care setting provides benefits in limited space applications such as PTACs, fan coil units, and water treatment.
Quality Duct Cleaning Services
From infection control for duct cleaning in hospitals to OSHA confined space training and fall protection when working from lifts, Hughes Environmental's technicians are experienced and trained to meet your facility's safety requirements. We've performed hundreds of HVAC systems cleaning projects in all kinds of facilities.
Working with Hughes, you can expect technicians that are trained, certified and up-to-date on common best practices. We have an OSHA trainer on staff, and our technicians have been through OSHA 10- or 30-hour training. We also have Council-certified Indoor Environmentalists (CIE) and Council-certified Microbial Remediators (CMR) on staff.
If you need air duct cleaning in your healthcare facility, Hughes Environmental can keep your ductwork clean and the air you breathe fresh.
888-845-3952 or Contact Us