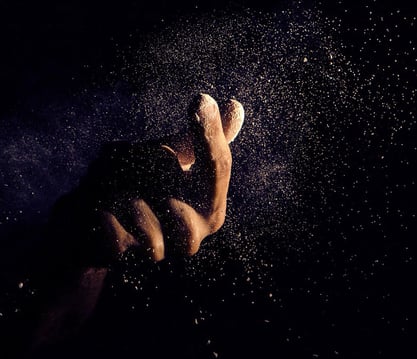 Eight years ago this month (October 18, 2007) OSHA began its Combustible Dust National Emphasis Program (NEP), which has helped to lower the risk of workers being exposed to explosive dust hazards.
OSHA says the NEP's purpose is to "inspect facilities that generate or handle combustible dusts which pose a deflagration or other fire hazard when suspended in air or some other oxidizing medium over a range of concentrations, regardless of particle size or shape; deflagrations can lead to explosions".
Before the NEP combustible dust was not fully understood, and steps to remove it and reduce the risk of an explosion were not often taken.
As George Santayana famously said, "Those who cannot learn from history are doomed to repeat it". To keep us from being doomed to repeat history, here is a timeline of industrial combustible dust explosions & events leading up to the creation of the NEP:
1785- 1st recorded dust explosion took place at Giacomelli's Bakery Warehouse, an Italian flour mill, when flour dust came in contact with a mounted lamp, which injured two workers. A local man named Count Morozzo examined the results of the explosion, and wrote a report giving the probable cause of the explosion as the dry flour dust. Due to this report, most of the only recorded explosions for the next 100 years involved grain handling.
1858- Grain dust exploded in a roller mill in Stettin, Poland and destroyed the mill building.
1860- Flour dust in a mill building exploded in Milwaukee, Wisconsin, which destroyed the building.
1864- Flour being processed exploded in Mascoutah, Illinois, and demolished the mill building it was in.
1869- Pea flour being ground in a German mill exploded, severely damaging the mill.
1878, May 2- The most infamous flour mill explosion occurs in Minnesota when the Washburn 'A' Mill exploded from a buildup of flour dust inside the building. 18 people were killed in the blast, which was so powerful it broke windows in neighboring towns and threw limestone blocks. This incident occurred because, despite the past explosions, no one thought that dust could actually explode.
1887- Dust in a grain silo in Hamelin, Germany exploded when it came in contact with an ignition source, destroying the silo and nearby building.
1893, March- Initially the explosion at a Litchfield, Illinois flour mill was blamed on a boiler malfunction. Further investigation found that the explosion was actually caused by employees not securing the dust collection machine, which was spilling flour dust into the rolling room. A fire broke out in another room and could not be put out before it reached the rolling room, where contact with the airborne dust caused an explosion so powerful that it could be heard 25 miles away. The explosion killed one worker, and destroyed 40 houses and 2 blocks of businesses nearby, which led to regulations for fire suppression systems in mills, and proper training for employees.
1896- NFPA is formed and begins to recognize the explosion hazards of industrial dust and create standards for safely managing these hazards.
1916- Dust explosion at Quaker Oats Cereal Factory in Petersborough Ontario kills 23 of the factory's workers. The fire started in the oatmeal cleaning room, destroyed the entire plant, and continued to burn for 4 days.
1921- Explosion in Germany caused when a tower silo storing 4,500 tons of a combination of ammonium sulfate and ammonium nitrate fertilizer exploded at a plant in Oppau, now part of Ludwigshafen, Germany. The explosion is blamed on killing 500 to 600 people and injuring about 2,000 more.
1922- NFPA Committee on dust explosion hazards is formed
1924- Corn dust exploded in Pekin, Illinois, this caused 42 people to die.
1948- A Brach's Candy factory in Chicago, Illinois exploded from a cloud of cornstarch, resulting in 18 deaths.
1975- A cloud of grain powder explodes at the Davenport river flour mill in Iowa. The explosion was powerful enough to shatter windows 20 blocks away, and killed 2 workers. This explosion led to changes in safety systems, including the use of confinement systems and no smoking policies.
1977- Explosion at a Galveston, Texas grain elevator was caused when low winter humidity made the grain dust dryer and more explosive than usual. 20 workers were killed in this accident.
1977- The worst flour mill explosion on record occurred in Westwego, Louisiana when a buildup of grain dust came in contact with static electricity. The explosion blew the top off the silo, and caused another 48 silos to catch fire. 36 workers were killed in this disaster, many from being crushed by the collapsing silos. Building code reforms for grain silos were based off this event.
1979- The Roland Mill in Bremen, Germany, was destroyed by a flour dust explosion, killing 14 and injuring 17.
1981- Custard dust that had accumulated in the factory ceiling and rafters blew down to create a dust cloud, which then exploded at a Bird's Custard factory in Banbury, England. The explosion blew the roof off the building. As a humorous side note, custard is created when heat and water are added to the custard powder; the water from firefighters and the heat from the explosion caused gallons of custard to suddenly be created inside the building, which then came pouring out.
1998- A series of grain dust explosions began in a grain elevator before travelling throughout the grain storage facility in Haysville, Kansas. These explosions resulted in 7 people losing their lives.
1999- A natural gas boiler exploded at the Ford River Rouge Power Plant in Dearborn, Michigan, which caused a buildup of coal dust to create a secondary explosion, killing 6.
1999– Buildups of phenol formaldehyde resin had accumulated heavily in the ductwork and on high surfaces throughout the Jahn Foundry building in Springfield Massachusetts. The dust inside the ductwork ignited, causing an explosion to travel through the ducts to different areas of the factory, where high surface dust was shaken down and ignited. The explosion was able to lift the building's roof and blow out its walls. 3 workers died later from burns they received during the explosion.
2002- Buildups of rubber dust at Rouse Polymerics in Vicksburg, Mississippi created an explosion that left 5 workers dead.
2003– Plastic dust explosion occurred at the West Pharmaceutical Services facility in Kinston, North Carolina after it had accumulated above tiles in a dropped ceiling. 6 workers were killed and dozens were injured when the building was completely destroyed.
2007- Combustible Dust NEP begins
---
To prevent history from repeating itself through explosions like these, combustible dust should be cleaned regularly. Hughes Environmental technicians are trained in the remediation of these hazards and use vacuums and equipment designed for safe combustible dust cleaning. Contact us now to find out how we can help you avoid joining this list of combustible dust explosions.
Employees worried about their safety or who notice possible combustible dust violations being committed are able to contact OSHA anonymously to file a complaint or request an inspection by calling 800-321-OSHA (6742) or visiting https://www.osha.gov/as/opa/worker/complain.html