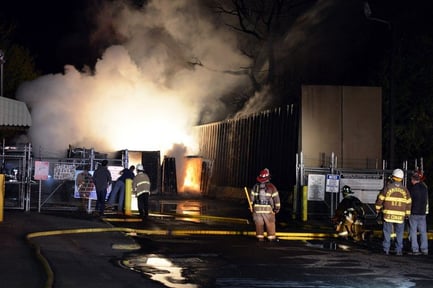 Near midnight on Saturday the 9th a magnesium dust fire began in the Joseph Freedman Recycling, Co. building in Springfield, Massachusetts. Due to the intense heat of the burning metal the responding firefighters had no choice but to let the fire burn itself out, while trying to keep it from spreading to different areas. Five fire engines, three ladder trucks, and a rescue truck were needed to keep this fire under control.
There were reports of explosions at the fire, but the aide to the Fire Commissioner said those explosions were caused by the magnesium shavings reacting to the water being sprayed on it. A magnesium fire can be extinguished with Class D extinguishing agents, but the fire was burning too hotly for firefighters to safely use this method.
Magnesium has some interesting properties that make it difficult to manage when it is burning. It has a chemical reaction with water to create Hydrogen, which is highly explosive. It was probably this chemically produced hydrogen that caused the explosions during the firefighting. Magnesium is also able to continue burning underwater, so adding water to the fire doesn't do anything to slow it. When burning as powder or shavings magnesium can reach temperatures of 3,100° C (5610° F), making it far too hot to approach. For comparison, a bonfire will only reach around 1,100° C (2012° F).
The fire at this recycling plant eventually destroyed two metal shipping containers where the magnesium shavings were being stored, and an 18-wheeler tractor trailer. Luckily no one was injured in this fire, but residents in the area were still shaken and angry after having to be evacuated.
They've had to deal with issues like this in the past. In an area nearby there was an industrial explosion at a foundry that killed 3 workers and seriously injured 9. Then, in 2006 a warehouse nearby was storing aluminum and magnesium when it caught fire.
The magnesium shavings that caused this recent fire were shipped to the facility in a cooling solution, and were supposed to be completely dried out before going into storage. They were instead put away while still damp, and it is suspected that this is what caused the fire.
Employees worried about their safety or who notice possible violations being committed are able to anonymously contact OSHA to file a complaint or request an inspection by calling 800-321-OSHA (6742) or visiting https://www.osha.gov/as/opa/worker/complain.html
Image credit: http://www.masslive.com/news/index.ssf/2015/05/cause_of_magnesium-fueled_indu.html