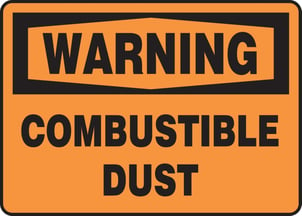 OSHA first began the Combustible Dust National Emphasis Program in 2008, and a 2011 report detailed just how severe the issue has been. In that time, more than 12,000 violations for explosive dust were found, with over 8,500 of these receiving a 'serious' classification. The fines for these violations cost companies over $22,738,900, with an additional $1,600,000 in state fines being charged.
Since then, even more companies have been fined for combustible dust violations showing that this is still a severe problem in industry. The list below shows some of the fines over $100,000 issued through the OSHA combustible dust NEP to companies in the past few years, sorted by highest to lowest.
The 2008 Imperial Sugar Refinery explosion was the fatal incident that led to the Combustible Dust NEP being issued, and the company received one of the largest fines ever given by OSHA. The company was ordered to pay $8.7 million in fines for known safety violations, with $5 million in violations at the plant that exploded, and another $3.7 million at their Gramercy, Louisiana plant. The second plant was found to be so unsafe during OSHA's inspection that they issued an emergency order to close the facility.
In February 2014 a Georgia lumber manufacturing company was inspected after OSHA received a complaint about dangerous conditions. Inspectors found multiple hazards, including a buildup of combustible dust and repeat violations, and issued fines of $279,400.
In Texas, OSHA inspectors at a cabinet company found over two dozen hazards to workers, including buildups of explosive wood dust and paint booth violations. Total fines issues were over $267,000.
All Feed Processing and Packaging, Inc., an Illinois pet food manufacturer was cited for willful and repeat violations of exposing employees to dust hazards that were both an explosive and respiratory risk. The fines totaled $254,000 and the cost of compliance coupled with these fines overwhelmed the company and caused it to shut down operations and close its doors.
In 2011 two employees at Gilster-Mary Lee Corp, an Illinois pasta plant, were seriously injured, which led to an OSHA inspection of the facility. It was found that the employees were injured because they were welding near unlabeled combustible dust, which exploded when sparks hit it. This company has had numerous repeat violations and over 30 inspections from OSHA, and received $231,000 in penalties.
After receiving an anonymous complaint, OSHA inspectors visited the Alabama Farmers Cooperative Inc. and found numerous violations. There were two willful safety violations involving combustible dust, which is given when a company intentionally disregards the law and is unconcerned with worker safety. These two willful violations resulted in a $126,000 fine, with total violations coming to more than $192,000.
After a fatal explosion at a Texas work site, OSHA inspectors discovered it was caused by a welding torch coming into contact with explosive metal dust. The three companies involved in the accident (Watco Mechanical Services, Jordan General Contractors, Inc. and JP Electric) were fined by OSHA for penalties collectively more than $119,000 for their lack of safety training and procedures.
Total Cost of Penalties for these companies (without including the Imperial Sugar Refinery's $8.7 million): $1,342,400
Clearly it does not pay to ignore this issue, and a small investment in proper cleaning now can help avoid costly penalties, or a deadly explosion, later on. Hughes Environmental technicians are specially trained in dealing with combustible dust, and use only certified equipment when cleaning hazardous materials. If your facility has combustible dust, contact a representative at 888-845-3952 or HERE to receive a free inspection.
The Occupational Safety and Health Act of 1970 ensures that workers are entitled to safe working conditions, and provides ways to complain anonymously about dangerous conditions. Workers are encouraged to file a complaint and request an OSHA inspection by contacting someone HERE.