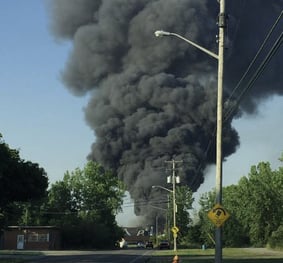 It's always frustrating when known issues are ignored, especially when those issues end up causing the same problems over and over. In a major instance of this, the Lockport Recycling Plant in New York had rubber dust catch on fire and has been a struggle for firefighters to put out, despite multiple OSHA fines and suffering from a fire in 2012.
The facility shreds old tires into a rubber dust for recycling, which is an incredibly flammable material and should be handled according to all NFPA standards. Now, the fire is causing hundreds of nearby residents to be forced to evacuate their homes in a ten block area around the fire, and the Salvation Army Emergency Disaster Services sent a team to help these residents and the numerous firefighters working on putting out the fire.
The amount of water used to bring the fire under control has "taxed the water supply in the city to the max" according to the Lockport Fire Chief, and tankers are being brought in to provide more water to fight the fire. After the 60 hours that over 100 firefighters have spent working on subduing the flames, the water main for the city actually broke, unable to withstand the constant use required of it as millions of gallons of water were dumped on the rubber dust fire.
The location has ten years of OSHA violations, with the most recent inspection in 2010 after a serious safety complaint was filed against the company. Before that, inspectors had been there in 2008 and found six serious violations. In 2012 there was a rubber dust fire at the plant that covered a large portion of the city in soot from the burning rubber dust, and a smaller fire in 2011.
Eventually the fire department was able to get the rubber dust fire under control and began to work on hot spots that lingered, lifting the evacuation orders that was keeping residents from going back to their homes. Sadly, a body was found in the remains of the plant after the fire was extinguished, and the coroner's office is working to identify who it might be.
---
Employees worried about safety violations being committed are able to anonymously contact OSHA to file a complaint or request an inspection by calling 800-321-OSHA (6742) or visiting
Contact a Hughes Environmental representative to learn how we can safely remove the hazard of a combustible dusts, such as this rubber dust. Our technicians are OSHA trained and use explosion proof vacuum cleaners when handling combustible dusts.